10 Years of Uncharted Books
(TLDR: It's our 10 year anniversary. We're not closing or moving or anything – just reflecting on the journey so far. There's a surprise at the end that I guarantee you will not guess.)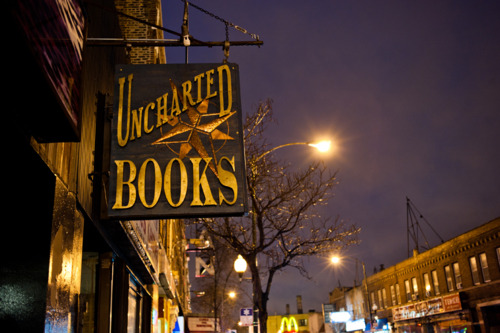 As I write this, it's January 12, 2022. Today is the 10 year anniversary of Uncharted Books. We aren't having a celebration for a number of reasons. For one, the Covid pandemic rages on and in-person gatherings don't feel safe. For another, I'm an introvert who's in kind of a grouchy mood, and I'd rather commemorate the milestone at home with my wife and pets than throw a rager. But the main reason that we aren't celebrating the anniversary is that I forgot.
I knew it was coming up, but if you had asked me this morning what day of the month it was, I would have guessed either the 3rd or the 30th. The passage of time seems to have come unmoored from reality these last few years. It's hard to feel like celebrating. What would a celebration right now even look like?
As you can tell, I'm feeling a bit melancholy about it all. I am tremendously proud to have founded Uncharted Books, but I just can't muster the holiday spirit to make a fuss about an anniversary. So for my own sake, as well as for any interested parties, I wanted to put together a brief history of the first 10 years of Uncharted Books from my perspective. This barely scratches the surface of everything that's happened and all the people who have been a critical part of the process. This will be a very long piece, filled with little anecdotes which may be interesting only to myself. But if you stick with it to the end, I do have a present for you.
The beginning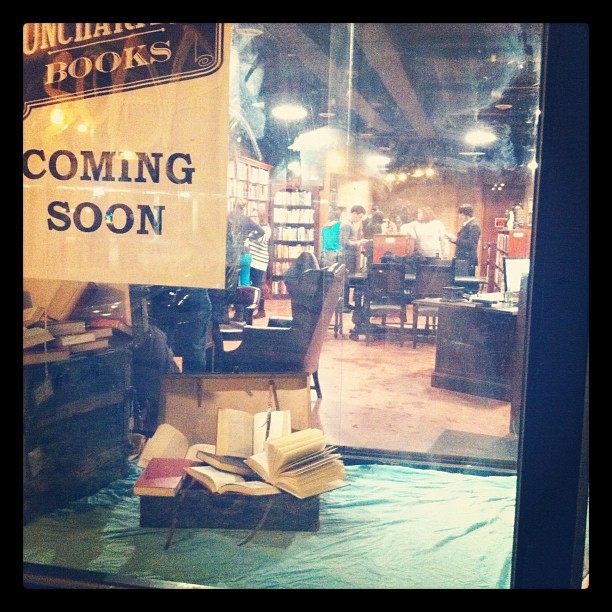 Before starting Uncharted Books, I worked in publishing. After a brief stint at a wonderful indie press in Evanston, I sold out and worked in digital publishing for a textbook company. Basically, I was creating online supplements for community college nursing textbooks. A worthwhile career, but I loathed it. I loved books and stories, and this was the farthest I could get from working with physical books while still, ostensibly, being in the book industry. I was 25, and when I imagined myself doing a variation of this same thing at 35, I wanted to poke my eyes out.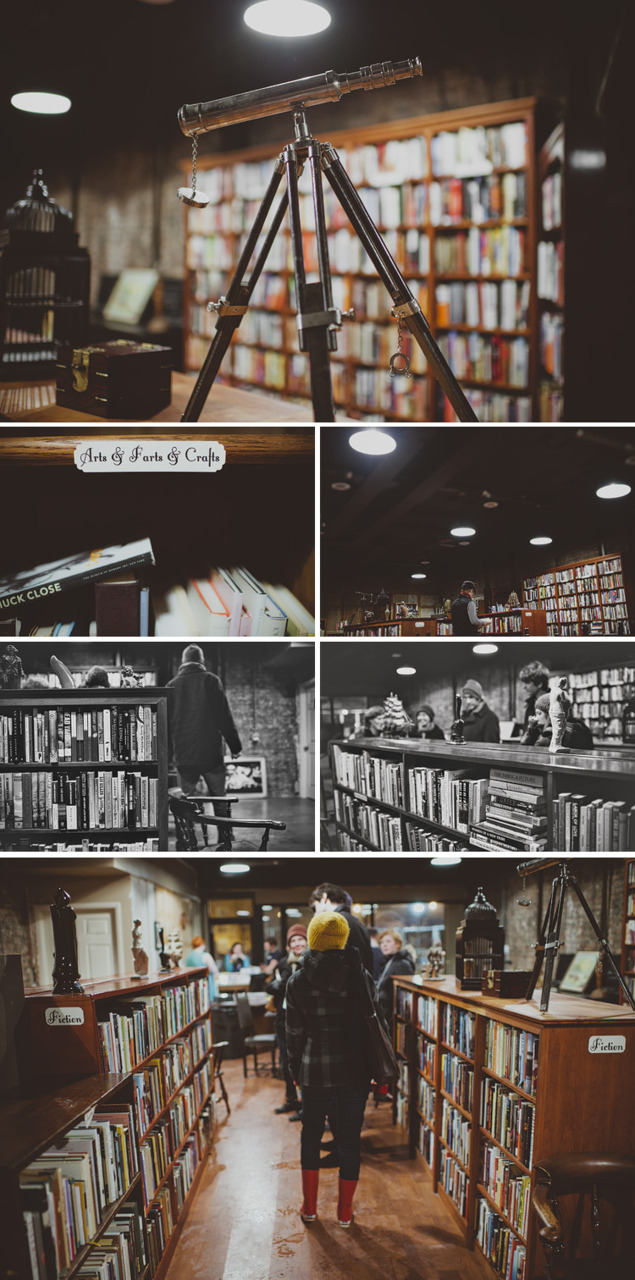 This was 2010-11, while the 2008 economic crash was still foremost in everyone's mind. One of the minor casualties of the collapse was Borders, the big bookstore chain that was nearly as omnipresent as Barnes and Noble. I lived in Hyde Park near a Borders, and I remember my roommate wondering where she was going to get her books now. I don't know, dude, what about one of the zillion indie bookstores that were in Hyde Park at the time?
But it did start some wheels turning in my mind. With Borders gone, indie bookstores might have a real chance to survive or even thrive. (I should mention here that I wasn't the only one who figured this out. The early-mid 2010s saw a national boom in brick and mortar indie bookstores that continued up until the pandemic struck.) Most of my time in Chicago had been spent in Logan Square which was (at the time) very independent business-friendly and didn't yet have a general bookstore. Thrift shops and library sales were overflowing with pretty good, dirt-cheap used books. People were making a living off flipping books on Amazon.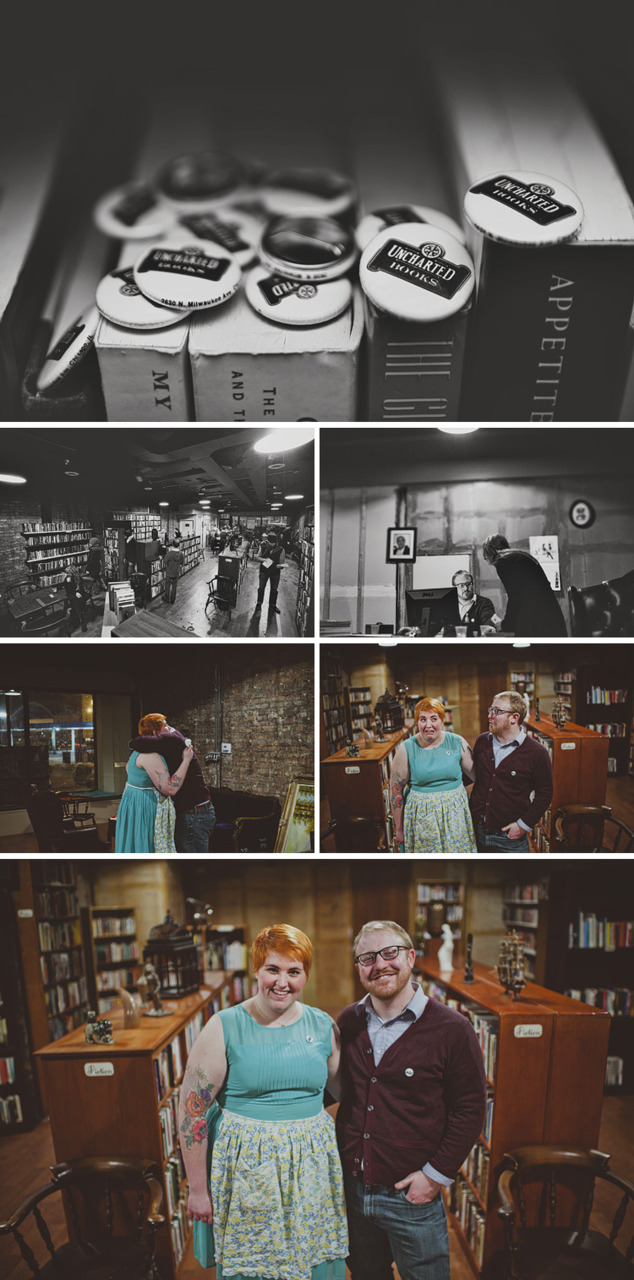 I talked to some Chicago bookstore owners and Logan Square small business owners and did the math. Opening a bookstore was an insane dream, but one that at this particular time in this particular place seemed like it had a better-than-average chance of succeeding. The other result of my research was the knowledge that if my precious little spaceship exploded on takeoff, while I would certainly lose more money than I had ever had, I wouldn't lose so much money that it would put me in debt for the rest of my life.
Here's where we have to briefly talk about money, which is my least favorite subject in the world. The bookstore has to make enough money to justify its existence, but it was never going to turn a significant profit. The thing that made the used bookstore model appealing to me (as opposed to a new bookstore) was its relatively low upfront cost. I got a deal on the storefront, did the renovations myself with the help of friends and neighbors, bought the furniture used, and bought the initial book stock from thrift stores and library sales. All in all, it took around $20,000 to open Uncharted Books. The majority of that came from a successful Kickstarter campaign, and the final few thousand dollars came from mine and my then-girlfriend's (now wife) meager savings and from my parents. And if you had the good fortune to visit the original location of Uncharted, boy did it look like it was renovated by a bunch of broke 25 year olds and stocked with thrift store furniture.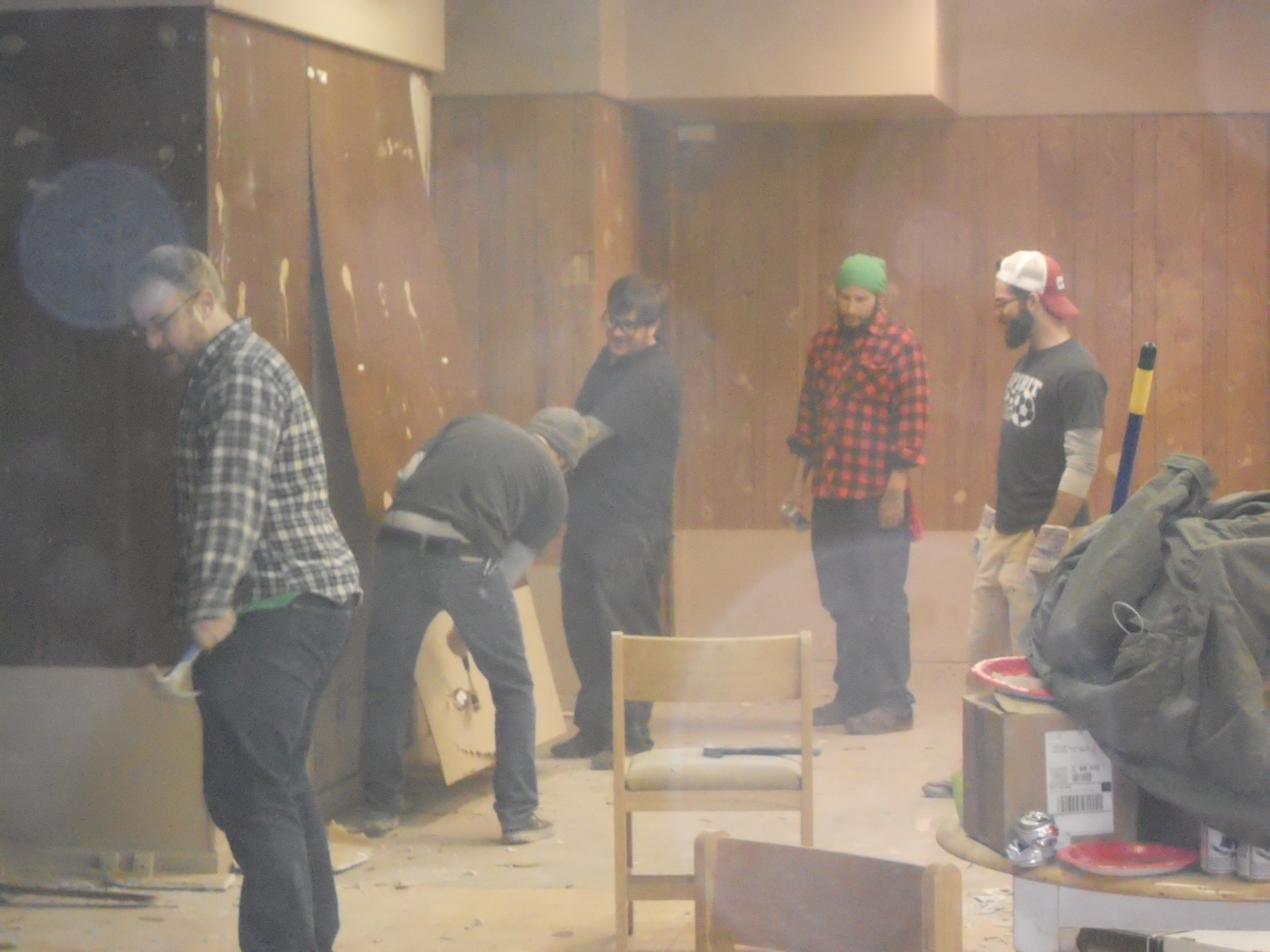 I should mention that my parents, Cathy and Andrew McSwain, have been unerringly supportive from the beginning. As a retired teacher and farmer respectively, they aren't exactly wealthy, but they've been incredibly generous in supporting me through the years both financially and emotionally. Without them, I would have had neither my love of books nor the confidence to start my own business.
We had hoped to open Uncharted before Christmas 2011, but a few contractors fell through and we didn't have enough furniture to even begin shelving the books. Rachel spotted a Craigslist ad in December 2011 for a theological school in Hyde Park that was moving and selling some very nice fixtures for cheap. With my parents' and Rachel's help, we filled a U-Haul with about 10 grand worth of seminary furniture – including the marble-top desk we still use up front, the wooden captains chairs we use for events, and the lovely cherry bookcases up against the back wall – for about $300. Our very hardworking friends helped us shelve and organize the books, and Uncharted ended up opening January 12, 2012.
To start with, I was the only employee. It was a month later when I realized I needed to bring on help.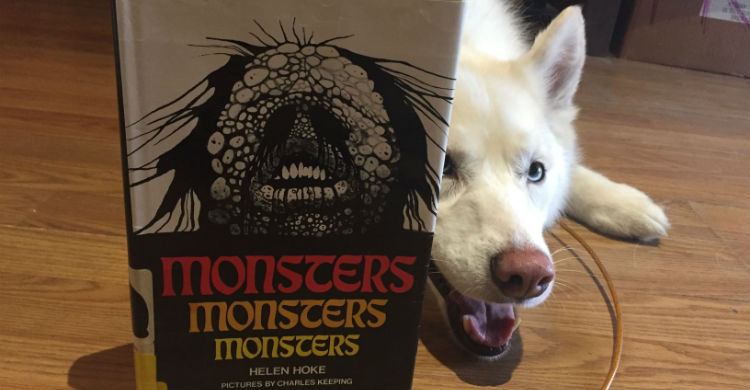 Ramona
Ramona's 10 year bookstore anniversary will actually be in February. In case you haven't met her, Ramona is a white husky with a big personality we rescued from PAWS Chicago, a wonderful local no-kill shelter. My girlfriend Rachel and I had recently moved in together, and we had wanted a dog for a while. We checked shelters every month or so but hadn't been able to find one who felt like Our Dog. Then Rachel called me at work one day and said she had found the one. I closed up early and went to meet Charity.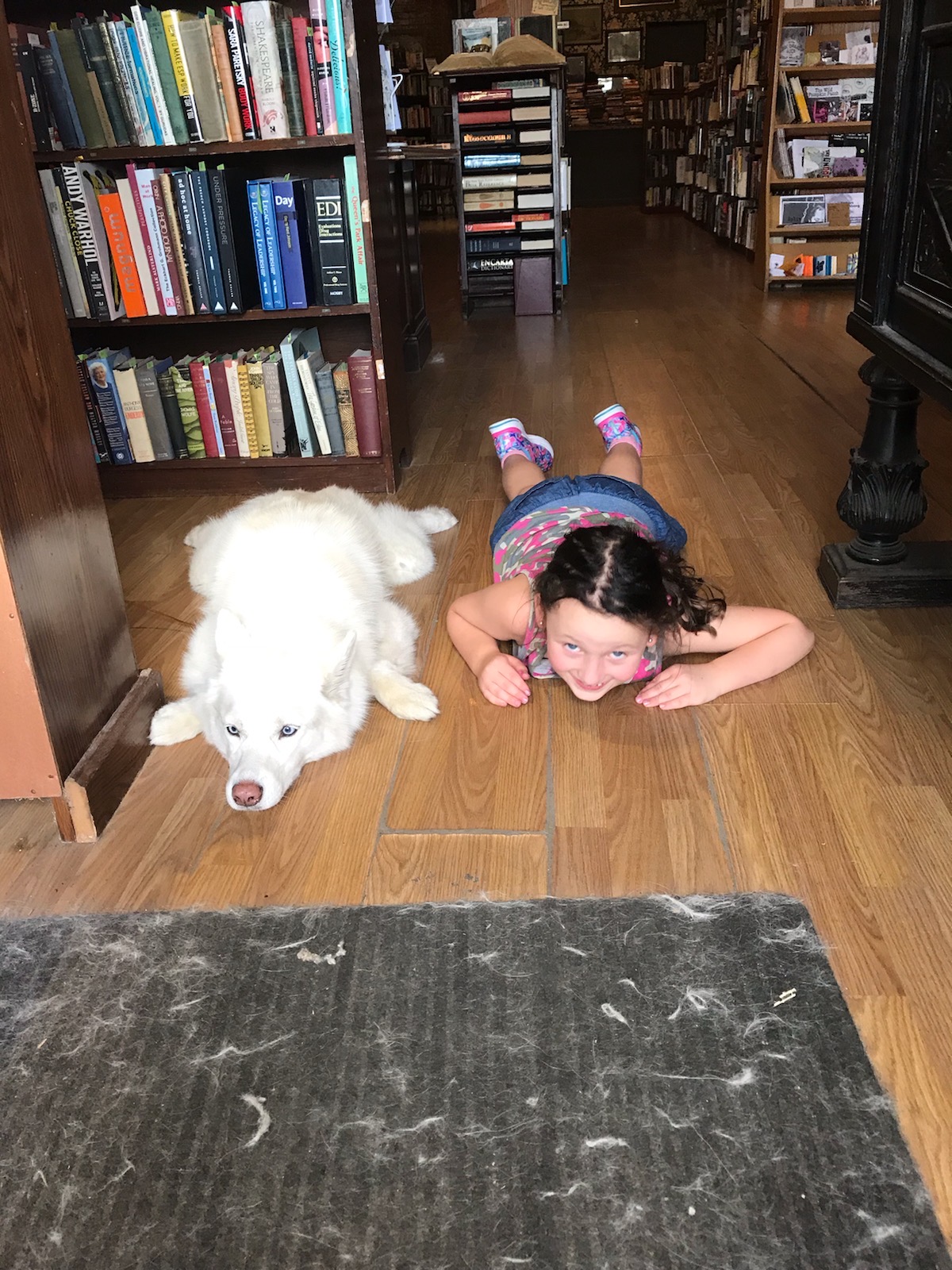 Charity (if you've met Ramona, you'll know that this was a hilariously inappropriate name for her) was an 8-month-old new arrival who would not actually be up for adoption until the following day. And here's the rub: at about 7 AM the following morning, Charity was going to be on TV as the local CBS 2 PAWS Pet of the Week, showcasing an adoptable pet for all of Chicago to see. The shelter manager warned us that they had seen this before: a gorgeous dog like Charity who was so friendly and well behaved would go on the morning show, and by the time PAWS opened their doors at noon, there would be a literal line around the block to adopt them. But we knew Our Dog when we saw her, and I was determined to bring her home.
So around the time Charity was scheduled to be on TV, I arrived at PAWS with a book and a thermos of coffee. I was there at 7, and they opened at noon. It was snowing hard all day and well below freezing. It was the first time I had closed the bookstore in the middle of the week. But I had gotten there first! I waited for the rest of the Charity super-fans to arrive… and I waited… and waited…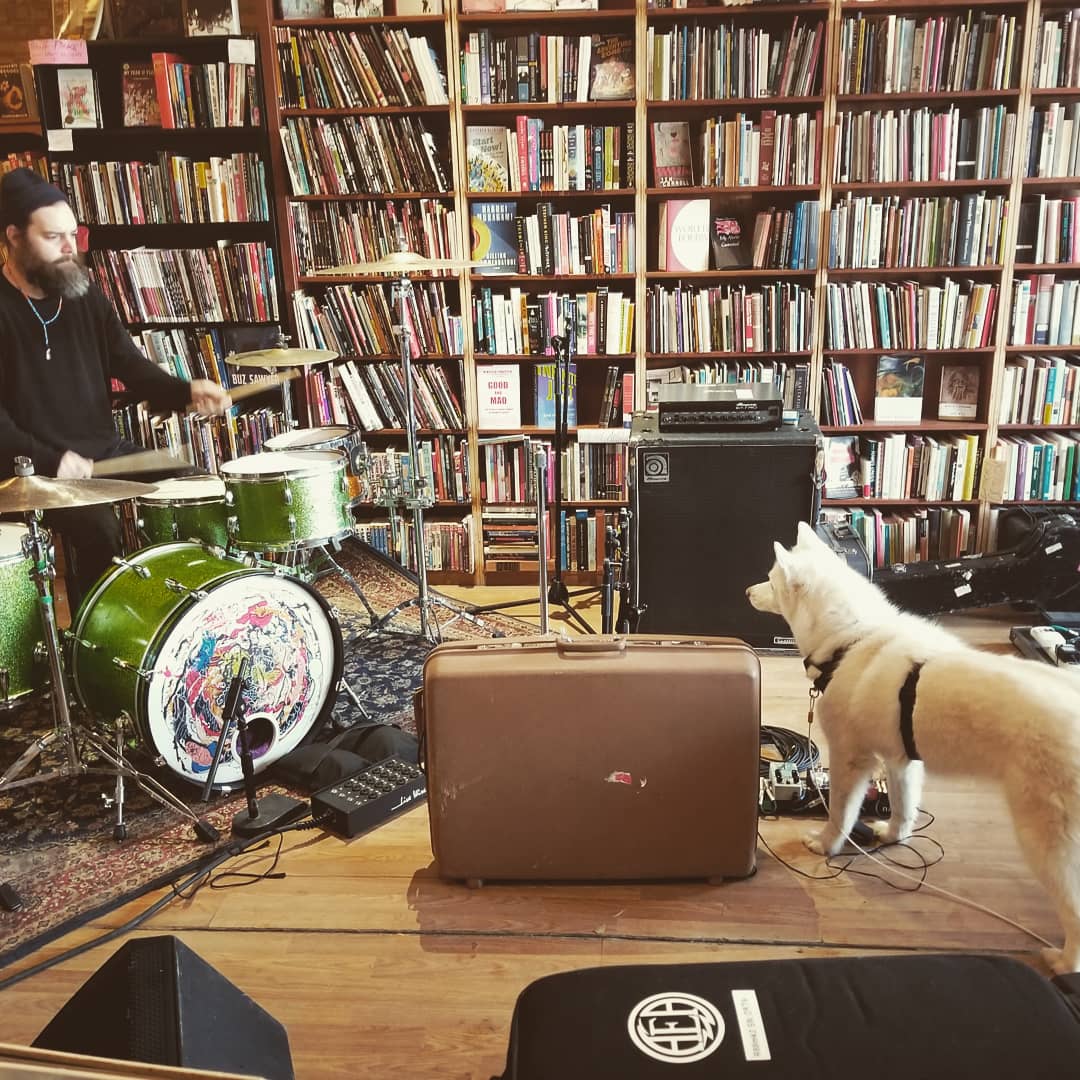 By the time the lovely PAWS employees let me in, I was an icicle. The competition had never arrived. I told them I was there to adopt Charity, and by the way, whatever happened to the big crowd of people I was told to expect? Oh, they said. I must not have seen Charity's TV appearance.
For years, when I told this story to people, this is where I would pull up the TV clip. Tragically, the CBS 2 website no longer hosts the old Pet of the Week videos, so Ramona's auspicious television debut seems to be lost to history. The general gist of the segment was that a very sweet news lady, seated in a rolling office chair, tried to convince this deranged, shrieking, hyperactive fluffball to appear dignified long enough for someone –anyone – to want to adopt them. And Charity, enthusiastic sled dog that she is, was pulling that rolling chair with all her might, whipping the poor woman back and forth across the soundstage, all while screaming at the top of her lungs. Eventually the news lady literally said "oops!" and let go of the leash, allowing the dog to launch herself off-screen like a bottle rocket. In other words, no one who saw Charity on TV would ever want her near their home or family.
We like to think that she blew it on purpose to make sure we didn't have any competition. I brought her home that day, we named her Ramona (after the enigmatic Ramona Flowers from Scott Pilgrim and the mischievous Ramona Quimby from the Beverly Cleary books), and she came with me to Uncharted Books the following day. She hasn't missed many days of work since.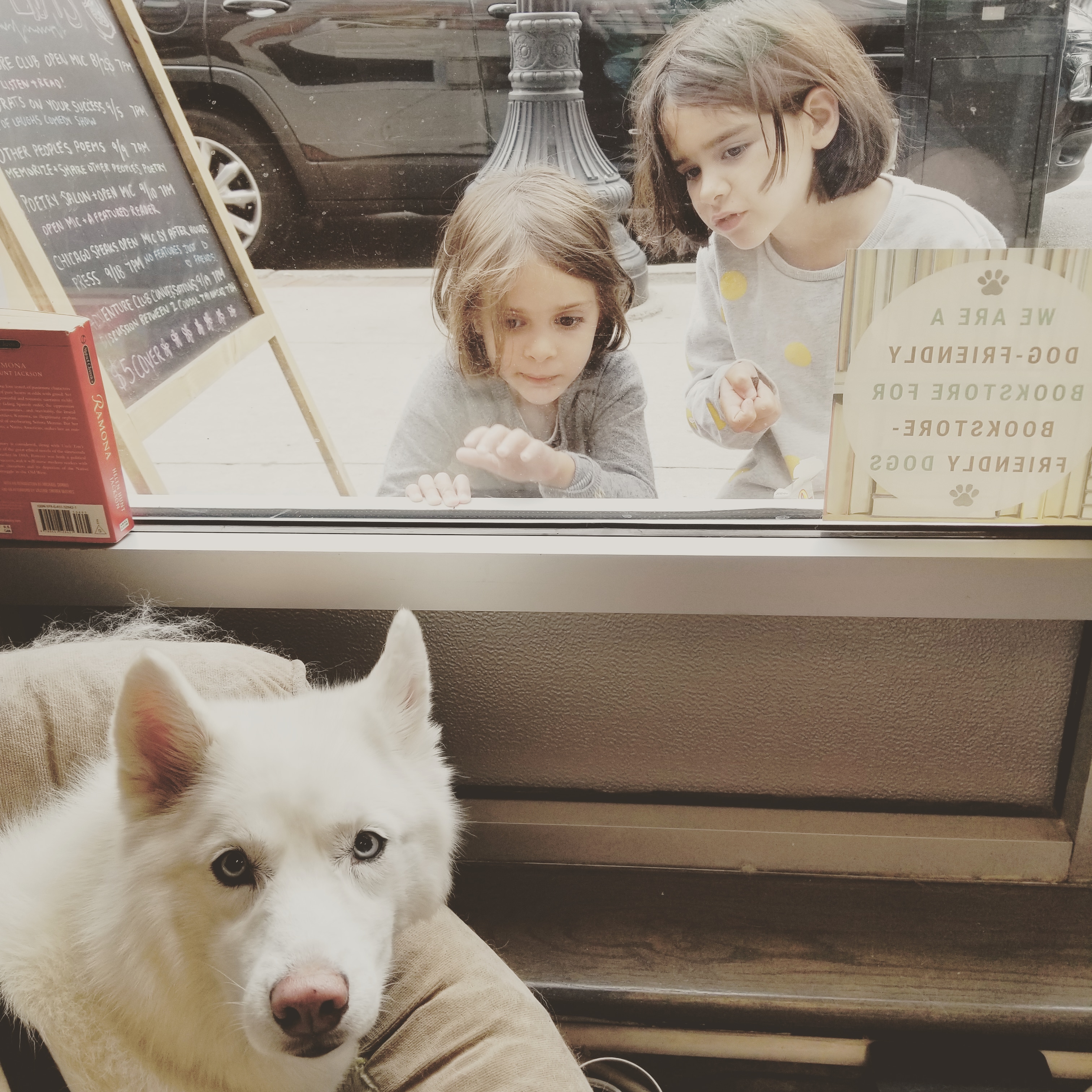 The team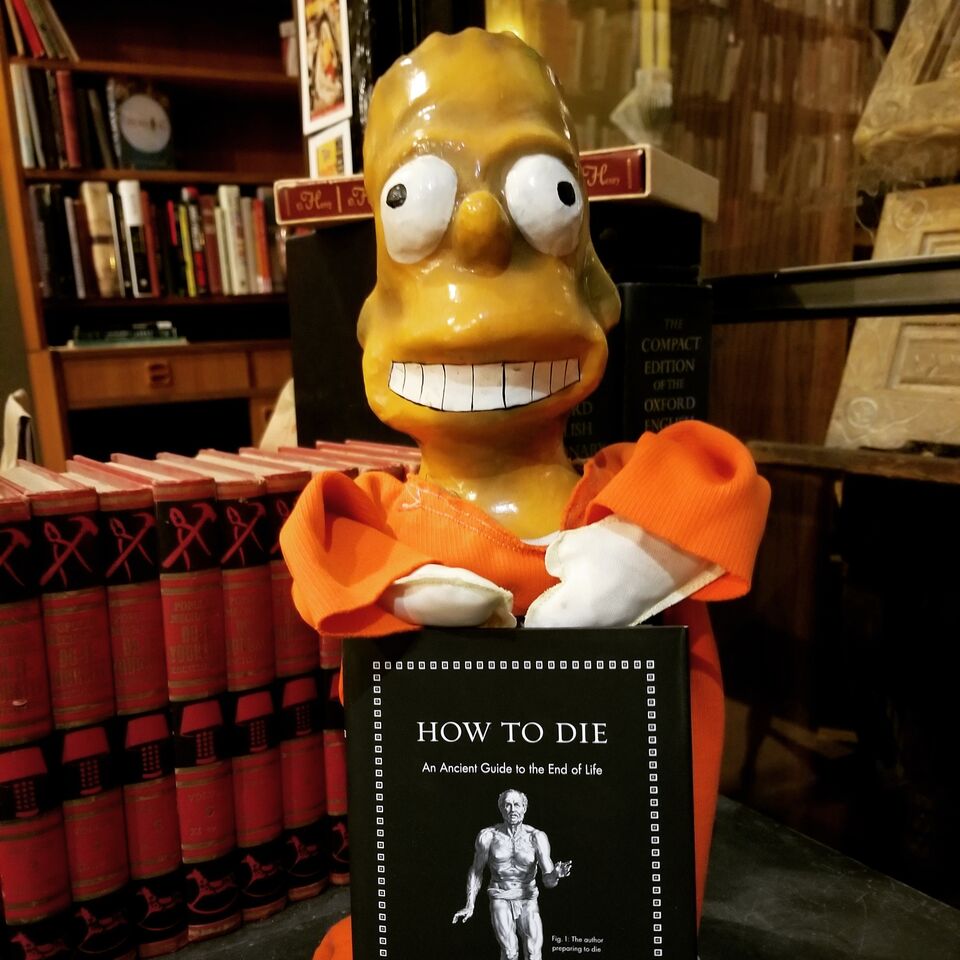 My first human employee was Ruth, whom I hired midway through 2012. She was an excellent artist who really knew her books. I had met her before I opened the bookstore at Brain Frame, the long-running underground performance art and comics showcase in Wicker Park. She was joined later in the year by Josh, a young man who was from a North Carolina town not far from my own hometown, and who reminded me (a wizened 26 year old) of myself when I was younger.
Eventually Ruth moved on, and everything seemed fine with just Josh and myself. One night at a reading, a young woman named Analeah asked if I would give her a job. This happened pretty frequently, and I had to turn her down. I've always needed additional help, but I couldn't always afford to pay people. She said that it was a shame, but she understood. She was trying to live her life like Patti Smith, who had wandered into a bookstore in Chelsea and asked for a job as soon as she moved to New York. This anecdote was from one of my favorite books, Smith's Just Kids, and I was impressed by Analeah's boldness and book knowledge. It was exactly the right thing to say to me. I told her I would see what I could do.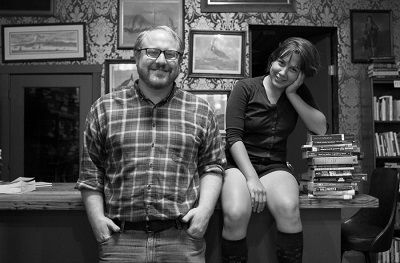 Analeah worked at Uncharted longer than almost anyone else. Josh left us to work at Myopic a few months later, and Analeah and I held things together on our own for several years. Analeah was never shy about speaking her mind, and I think anyone who spent much time around the bookstore during those years has an Analeah story. She and my wife have matching tattoos. There are few people who shaped the direction and philosophy of the bookstore more than Analeah, and I'll always be grateful for our time together.
In 2015, Analeah moved out of Chicago, and I needed to look for additional help. I briefly employed a young woman named Jess who didn't quite work out. My next long-term employee was Dana. Dana was a local poet whom I knew from many readings and open mics at the bookstore. We had been carrying her poetry chapbooks for years. She was also the first Real Adult™ I had employed after a long string of broke artists and fresh college grads. I didn't realize how valuable it was to have a reliable, responsible adult who didn't come to think of me as a surrogate parent (which had been something I loved, by the way). Dana worked with me until 2019, the longest working relationship I've had to date, before moving out of Chicago to pursue her art career. Before leaving, she helped me pick her replacements.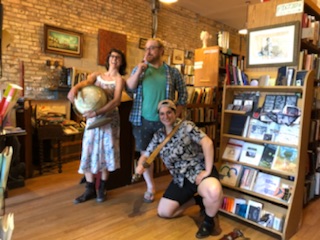 (From 2018-2020, until the pandemic forced us to close, we also worked closely with Rivka Yeker, and I greatly hope we get to work together again in the future. Rivka was, among other things, our events coordinator and the person who opened my mind to Uncharted's true potential as a community space. They are a phenomenal event programmer, a passionate curator, and a real-deal visionary. When/if the pandemic ever ends and we're able to do events again, I hope Uncharted can once again be a showcase for Rivka's vision. In the meantime, you can hire them for brand strategy!)
At the beginning of 2019, I brought on 3 part-time employees to replace Dana, which remains the largest staff I've ever employed at once. There was Francis, who was a zine-maker I knew through the store; Emily, a frequent bookseller who knew a lot about starting an online bookselling brand; and Emma, a high school senior whose passion and artistic ability impressed me so much I had to find a role for her. These three wonderful people helped us get through one of the hardest eras of the bookstore, which was the move to Andersonville in the spring/summer of 2019. Emily left us shortly after, and Emma went off to college. We still have lots of Emma's artwork around the store – check out her drawings on the Scrabble tile labels over each section.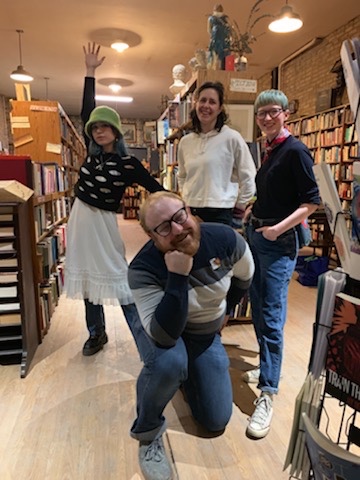 I can't praise Francis Van Ganson effusively enough. They've been with me now for 3 years and are my first and only full-time employee. If you've been to our Andersonville location, you've met and been charmed by Francis at the front desk. If you've been on our Instagram page or subscribed to our pandemic Substack, you've gotten a taste of Francis' surreal humor, spicy book reviews, and natural gift for storytelling. As I've moved to a more back-of-the-house role, spending most of my work days dealing with the antiquarian books and administrative tasks, Francis has managed the front of the house with passion, integrity, and intelligence. Under their management, we've steered Uncharted to become a more inclusive, principled, and profitable (!) community space than it has ever been. The Uncharted Books of 2022 is almost as much the product of Francis' work and ideas as it is mine.
And last October we brought on our most recent addition, the incomparable Kate Harding. Kate needs no introduction, but here's a brief one anyway: Kate is a bestselling author, a crusader for intersectional feminism and body positivity, and a goddamn great bookseller. She works hard at the store several days a week and has reinvented our email newsletter, The Compass, into a legitimately exciting literary blog.
Finally, I can't write about the people who made Uncharted Books without talking about Rachel Adams, my wife, my partner, and my favorite human being. We often joke that Uncharted is her unpaid 3rd job, but it's one of those things that's funny because it's true. She has put more physical and emotional labor into this place than anyone, but because she doesn't work here in-person, most of our regulars don't know or appreciate what she's done. All the behind-the-scenes organization – including our consignment program and book-keeping systems? That's Rachel. The financial stability of the bookstore – including helping us secure small business loans during the pandemic, doing our taxes, and creating most of our marketing materials? That's Rachel too. The hand-made Milkweed earrings, Book Smells candles, and Saturnalia pottery we've carried over the years? Rachel. The emotional labor of encouraging her Scorpio-ass small-business-owner husband who takes every criticism personally and forgets where he puts his own shoes? Rachel again, with some help from Ramona. Rachel has been the anchor for me and for Uncharted Books since the idea for the bookstore was first conceived, and I literally could not do this without her.

The locations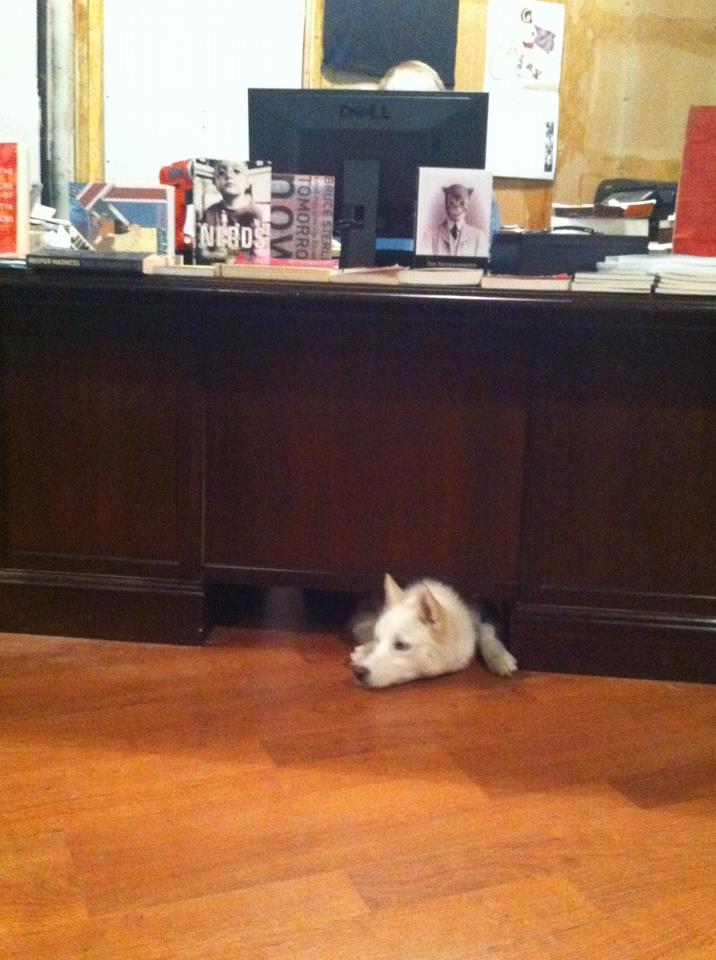 I used to have a recurring stress dream that there were two locations of the bookstore a few blocks apart, and I was the only employee working both of them at once. I would have to keep running back and forth, trying to keep everyone happy. I haven't had that dream in a few years, which hopefully speaks to the (relative) stability of the bookstore, but I do think it's a telling metaphor. On the one hand, it seems to indicate that I had too much stress and was spreading myself too thin. On the other hand, there was a sizable window of time where something very similar was, in fact, true.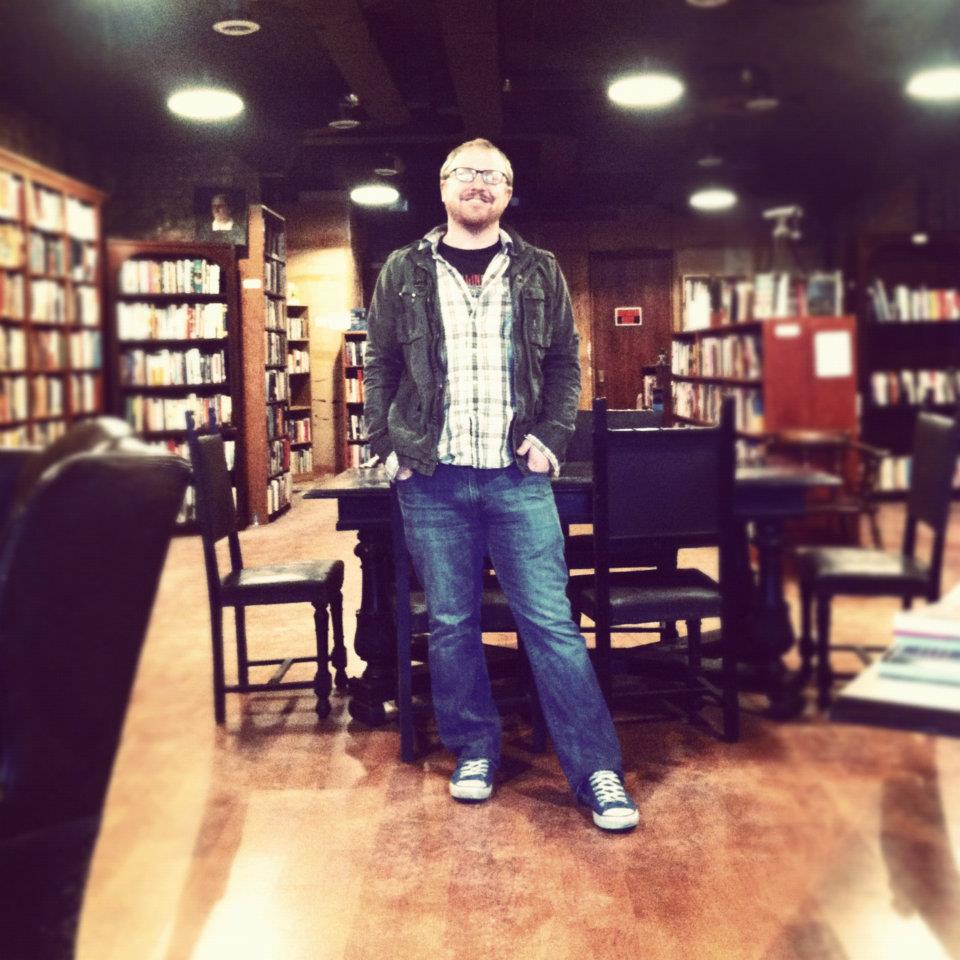 Uncharted Books was conceived as a Logan Square bookstore, and I never intended to operate it anywhere except Logan Square. Our original location on Milwaukee Avenue felt like it was right in the heart of the most exciting neighborhood in the most exciting city in America. Logan Square felt alive and diverse and urban in a way that I, having grown up in rural North Carolina, had always dreamed a city would feel. It was a place where public art and graffiti were in conversation. It was a place where cultures and generations mixed in spite of the mortifying segregation of most of Chicago. It was a place for artists and writers and innovators and families and weirdos and book people. I was all of those things. I still am some of them. I love Logan Square.
That first storefront did suck though. It was tiny, and the bricks in the wall constantly shed white powder all over the place. There was a giant black hole in the ceiling. Once, during a rainstorm, so much water poured into the store that we lost more than $12,000 in inventory and fixtures (according to the insurance assessor). We tried to expand into the basement, which was fine until one day I opened the basement door and saw half my inventory floating in about 2 feet of water. The insurance didn't pay for that one. In the end, the condition of the space and my landlord's combative nature were too much, and we were forced to break our lease and relocate.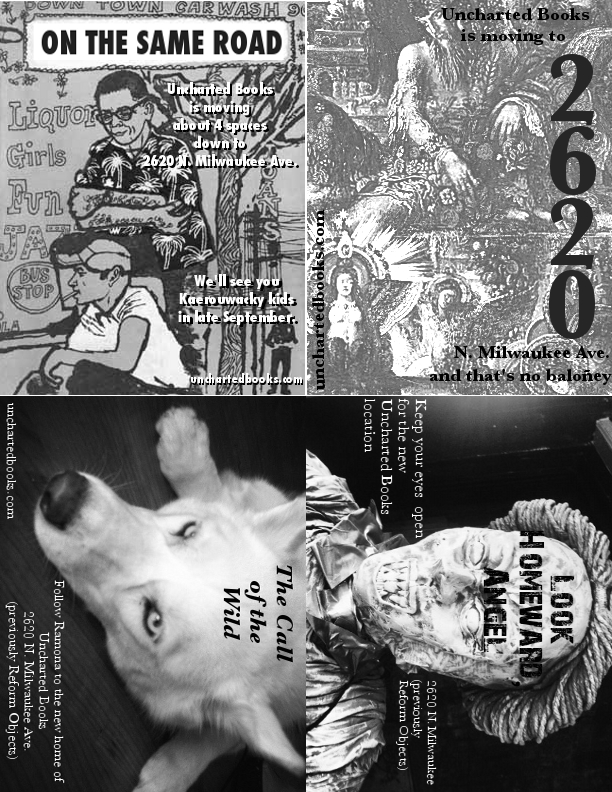 Preparing for the move so soon after opening and dealing with two very eccentric landlords was nerve-wracking. I remember a day that my girlfriend Rachel and I were on a date in the suburbs, purchasing supplies for the move. We saw the kinda funny/very stressful movie This Is 40 and had a minor existential crisis. Is this what adulthood was supposed to be like? Do most couples hate each other that much? Will we hate each other that much when we're 40? We decided the only reasonable way to cope with the stress of the bookstore move and our own (apparently supernatural) love for each other was to go ahead and get engaged in a World Market parking lot.
So Uncharted moved three storefronts south down Milwaukee Ave. Volunteers and Rachel and Josh and Analeah and I carried the books and furniture down the sidewalk ourselves over the course of a couple of days. Our new space had been previously occupied by a vintage furniture store whose owner was a friend of mine. The furniture store had an old oil painting of a bearded man that I had always longed for but couldn't afford. When they moved, the portrait hadn't sold and the owner said I could keep it. By the way, she said, that painting was here when they moved in. It has turned out to be very haunted, and books tend to fall off the shelves near it. If you come by Uncharted, take a look around and see if you can guess which painting it is.
Logan Square folks might remember that, for several years, the Uncharted Books sign remained up at the old location even though the actual storefront was a few doors down. This is because the original sign was inside of a lightbox that could only be removed from inside the storefront, which our old landlord would not grant me access to do. I can't imagine that it benefitted him to keep our sign up, but it was an enormous pain for us to have to explain to people every day that this one is the real Uncharted Books and that one is closed, but yes, it's the same store, and yes, I also am annoyed by there being two signs, and no, it isn't a misguided advertising tactic. I used to put posters on the windows of the old storefront (which, after we moved out, sat vacant for about 5 years) explaining where we were actually located, but the old landlord kept taking them down. Analeah wanted to climb a ladder and paint over it in the middle of the night, and in retrospect, I should have let her. To be fair, I was terrified of my old landlord and I think he enjoyed messing with me. I would like to think that present day 36-year-old Tanner would have handled the duplicate signs situation with more assertiveness, but at the time all the hassle seemed worth it not to have to interact with that guy any more than absolutely necessary.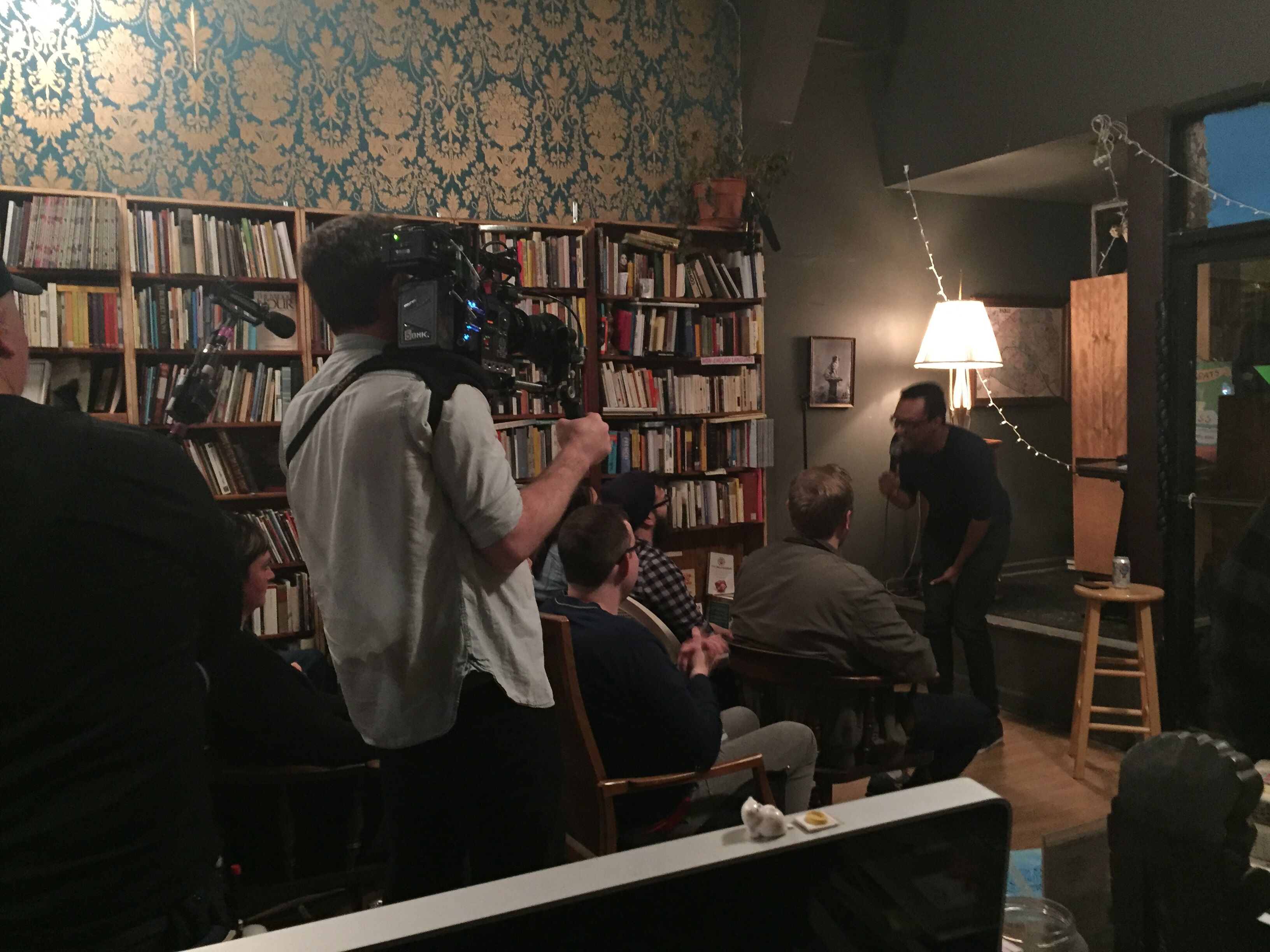 We remained in that second location for the rest of our time in Logan Square, from 2013-2019. I loved that space. If I had any way of acquiring the two million dollars (!!!) my landlord was trying to sell the building for, I would have bought it and stayed there forever. But in the end, we were plagued by the same types of problems that caused many other small businesses on that stretch of Milwaukee Ave. to close in 2018-19. The powers that be had sold the neighborhood to developers. More expensive boutique shops opening up changed the customer base. Constant disruptive construction caused foot traffic to dry up. (Regulars might remember the construction scaffolding that went up in front of our building in 2016, blocking our sign and windows, and remained up there completely unused for 3 years.) When our storefront started to experience serious issues – like water leakage, heating breakdowns, black mold, and the straw that broke the camel's back, no running water for 4 months in the winter – our landlord refused to make repairs. He was waiting for a developer to buy the building for $2 million, tear it down, and build a condo, so why pay to fix up a building that wouldn't be there much longer? We had to go. Three years later, the building remains, the storefront remains unoccupied, and, to my knowledge, he hasn't found a buyer.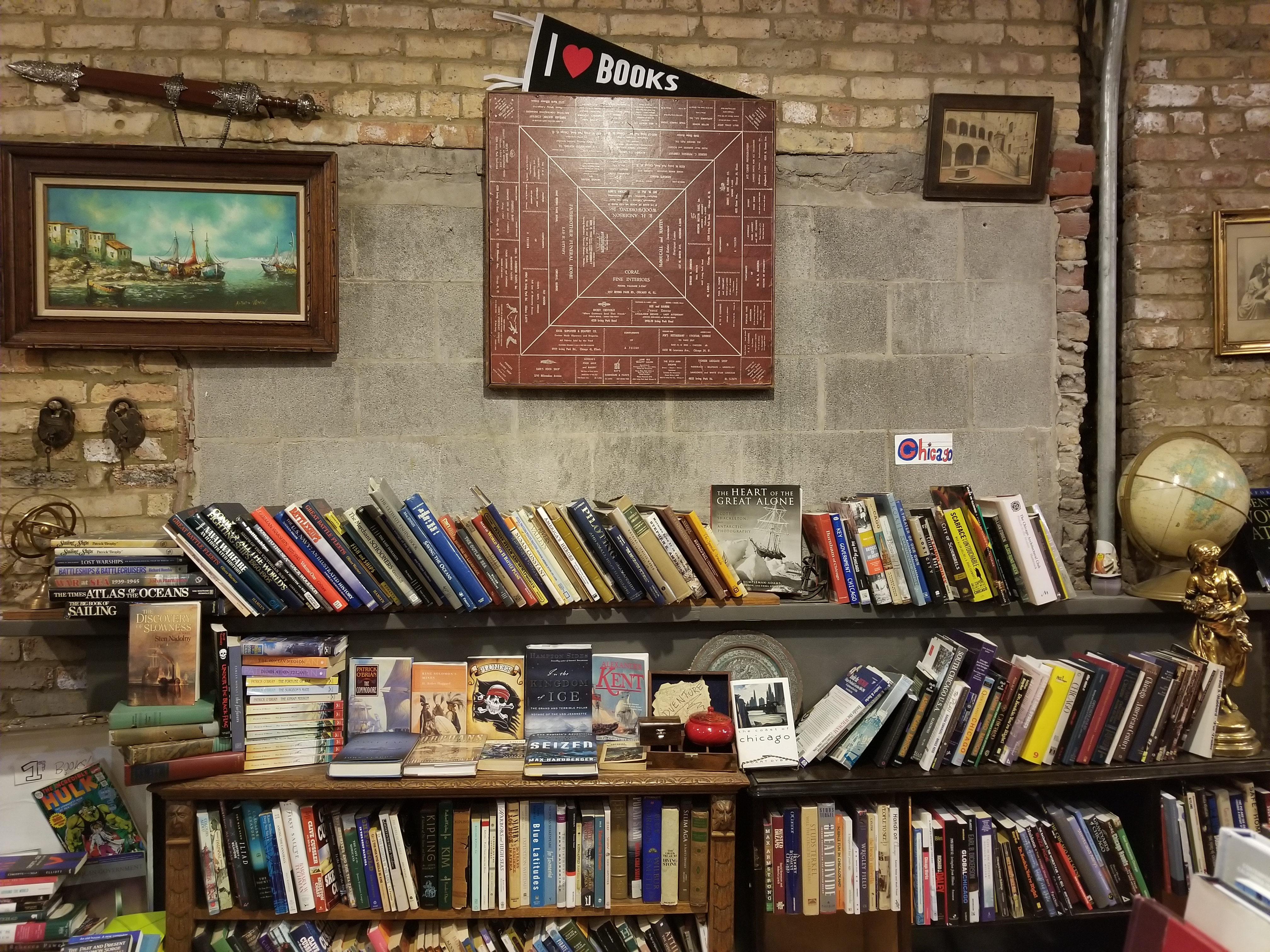 Plans to move to a different location in Logan Square fell through. To remain in Logan, we would either have to pay more than double our previous rent to move to a comparable location, or pay the same amount to relocate to a storefront that was in worse condition or one that was inaccessible to foot traffic. Real estate was at a premium, and we were (as we always are) kind of broke. So we expanded our search and found a shockingly affordable location in Andersonville on Clark Street.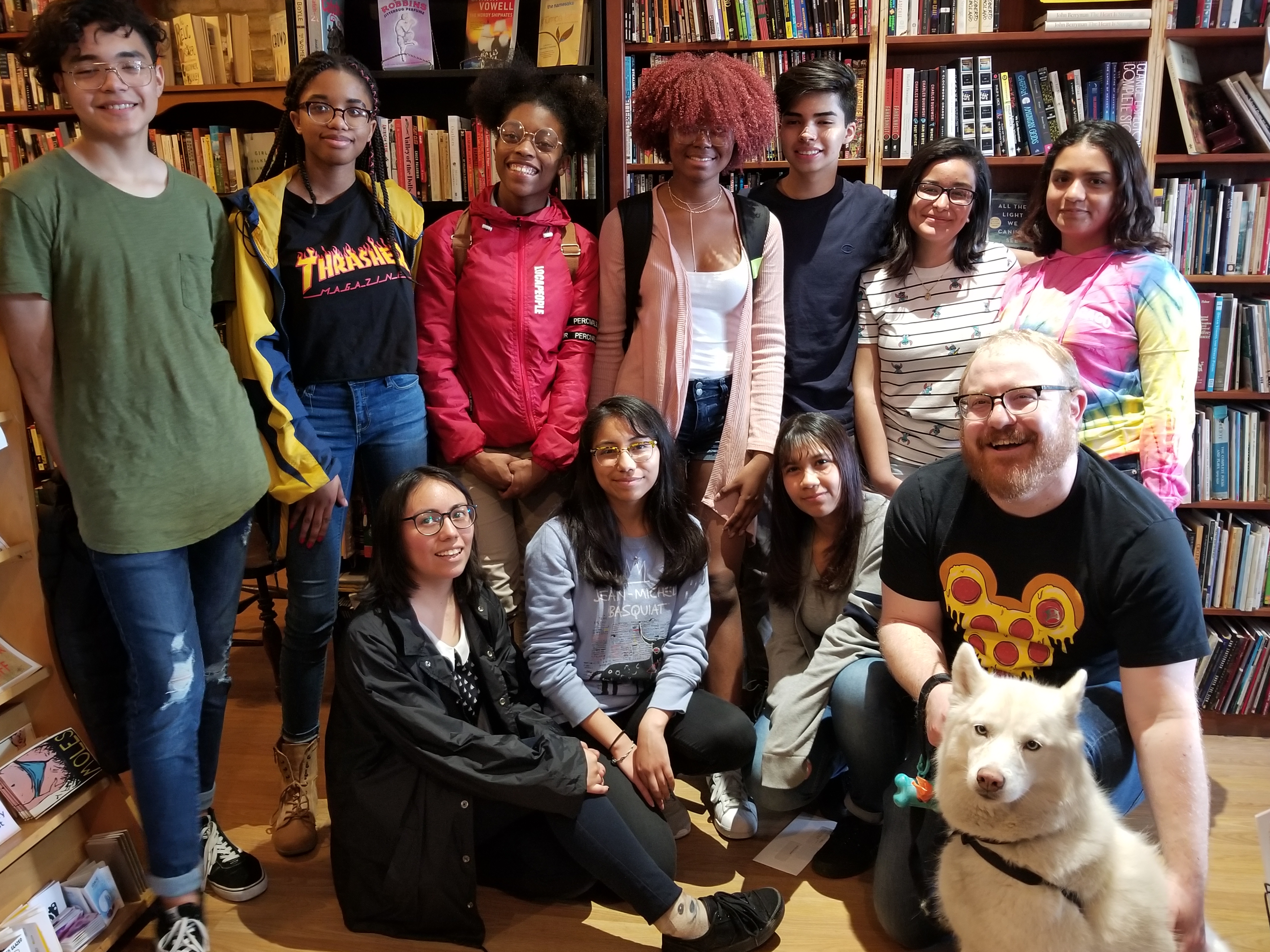 We love Andersonville (just as we loved Logan Square), and we have truly been made to feel like a part of this community. The Andersonville Chamber of Commerce in particular deserves enormous praise for the advocacy and programming work they do, and Aldermen don't get more inspiring than the 40th Ward's Andre Vasquez. He was there for our ribbon-cutting, and he is one of Chicago's most tireless progressive reformers. We've been welcomed to the community with open arms, especially by our neighbors at Women and Children First, whose territory we absolutely Kool-Aid Manned ourselves into. They've been nothing but gracious and helpful, and we have a nice relationship of sending customers to each other's shops for books we don't have in stock. We are incredibly lucky to have the space we have in the neighborhood we occupy.
With the Andersonville location, we finally had the breathing room to try some new things. We greatly expanded the work we do with antiquarian books, which takes up the majority of my time here at the store. We also expanded our events and programming and opened the Adventurer's Club – a cozy co-working space located through the secret door in the back of our shop. And just as we were settling into our new routine… Covid.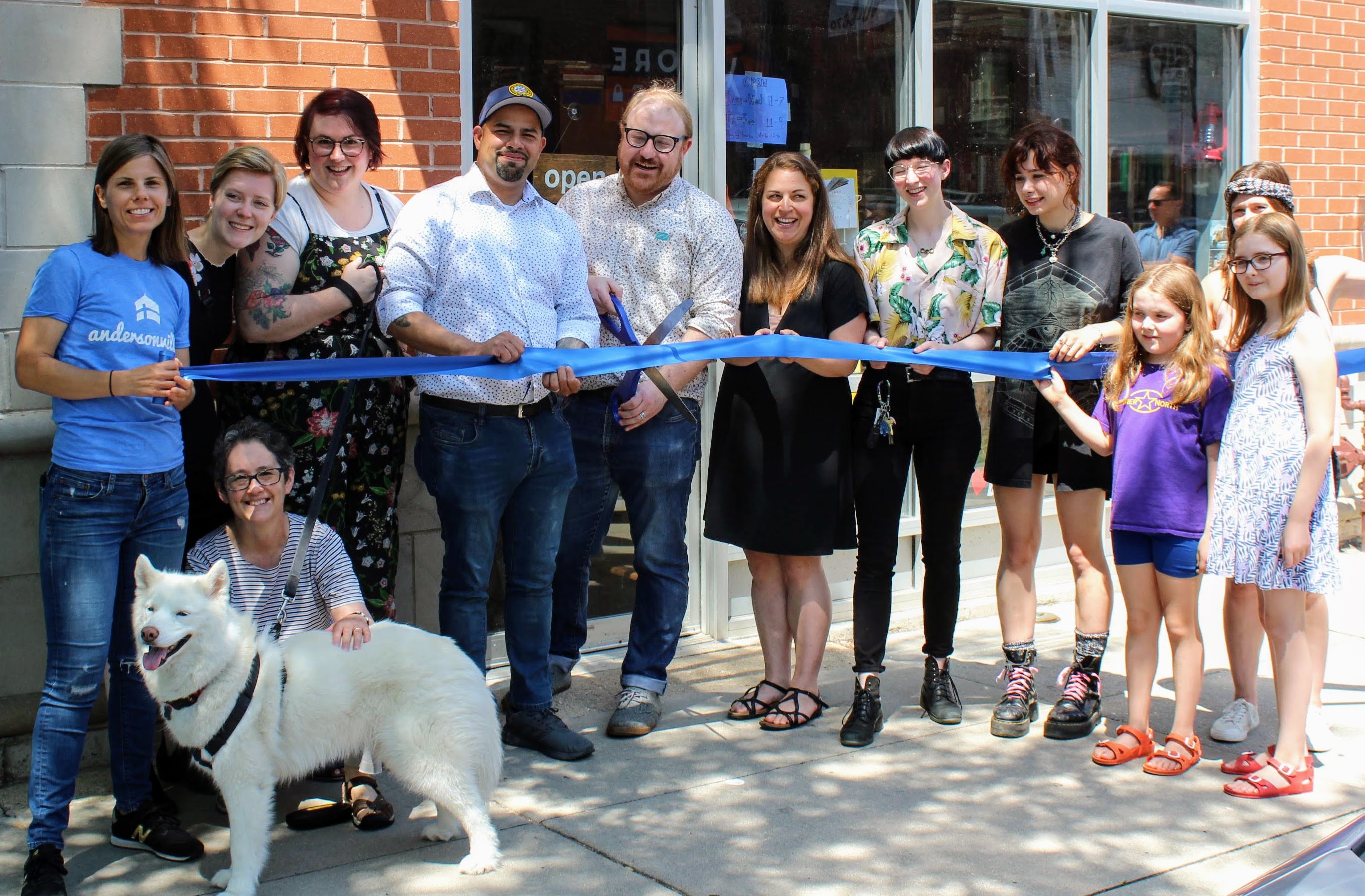 The present and future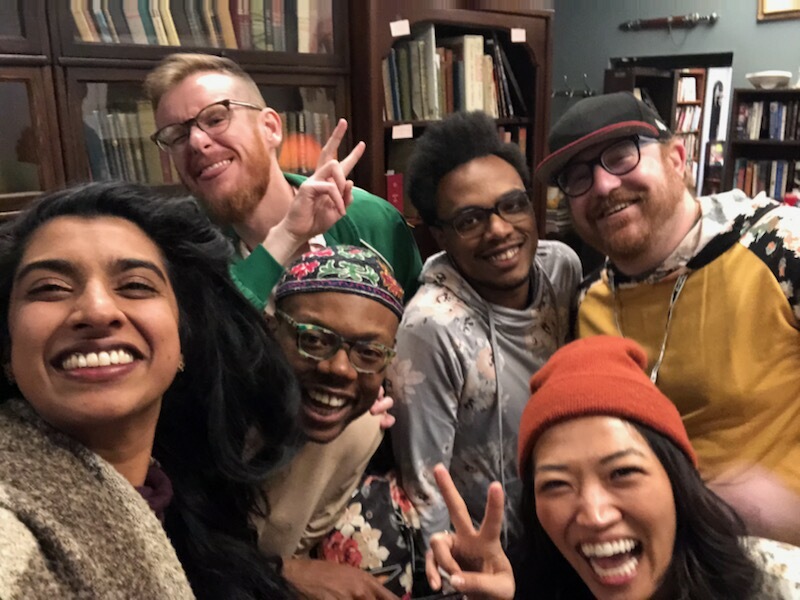 I don't want to write too much about Covid because it's a huge bummer and you already know what I'm going to say. You remember Covid. Look out your window. It's still Covid out there, three years later. We were unable to function as a bookstore, on and off, for over a year. We pivoted into something like a tiny fulfillment company, shipping new books and mystery boxes to customers all over the country. We ran a very weird and charming Substack called VUBE (the Virtual Uncharted Books Experience). We did our best. But among the many awful aspects of the pandemic was that we felt completely hamstrung. We had no way to leverage our strengths – the atmosphere of the bookstore, the personal conversations and connections, the in-person events, the Adventurer's Club, our superstar dog who wants to be snuggled by strangers. Instead, we had to rely on my limited knowledge of online marketing and shipping logistics. I hated running a fulfillment company almost as much as I loved running a bookstore. I felt like I was back in my textbook publishing days; typing names of books and names of customers into a distributor's website, while never interacting with either.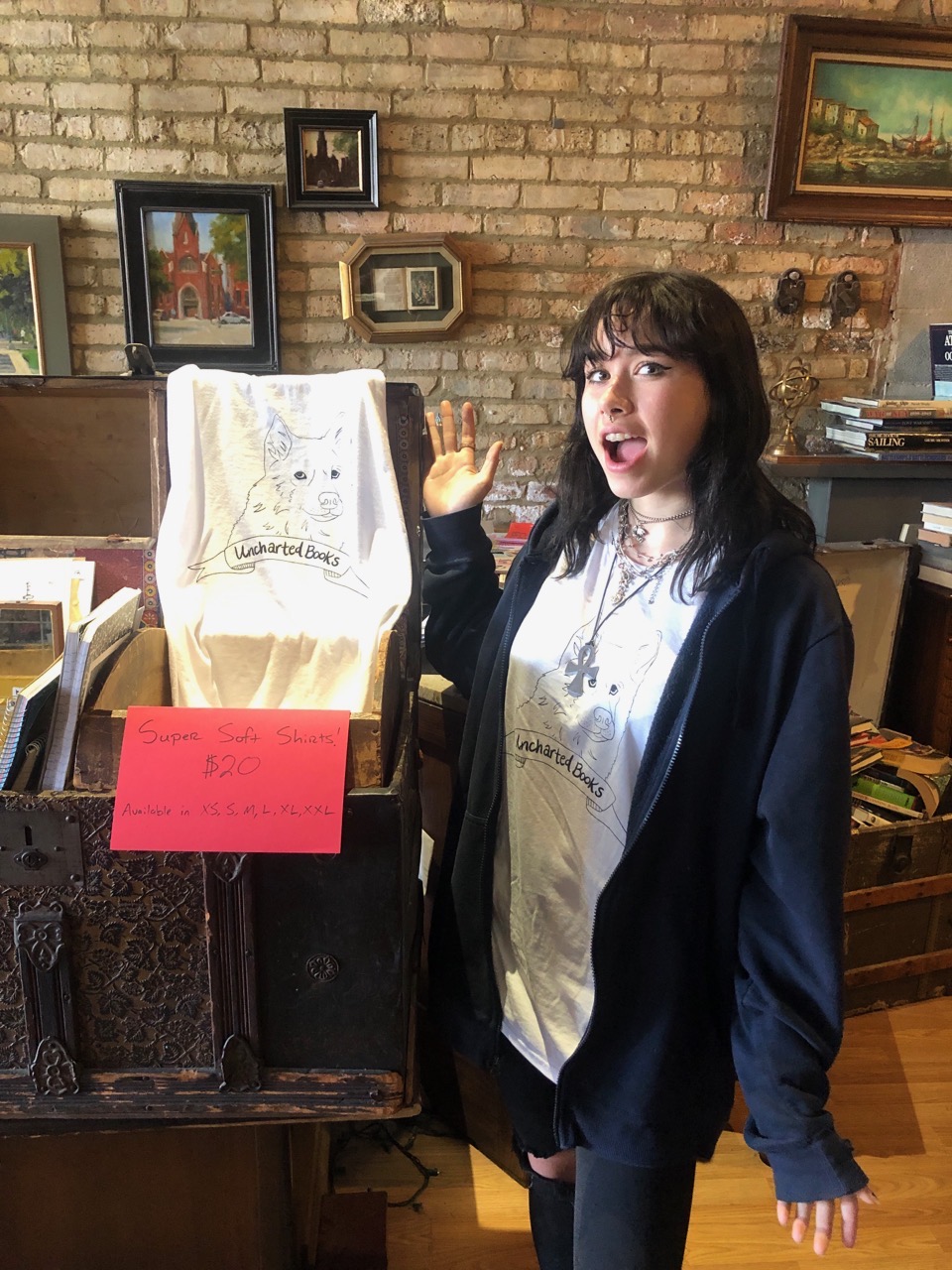 Anyway, everybody is going to be dealing with the trauma of the pandemic for the rest of our lives, so there's no reason to waste more of your time with it here. Suffice it to say that we, Uncharted Books, are doing okay for the moment. Despite being closed the first few months of 2021, we ended up having a really good year in terms of sales. Andersonville has done everything it can for small businesses, and we feel confident that we're going to be able to keep adapting and bothering all of you about books for many years to come.
At this point, I don't think I am capable of doing anything except running Uncharted Books, and I mean that in the best and worst possible ways. I think a decade of being spoiled rotten – getting to spend my workdays talking about books and petting my dog – has rendered me basically unemployable to anyone but myself. I'm going to keep coming up with new ideas and new strategies to keep Uncharted the fun, weird place it's always been because, if we're being honest, I kind of have to.
Looking towards 2022, we're hoping to start bringing back some small scale events once the omicron surge is over. We're probably never going to be able to do the co-working space again, but I'm working on some new ideas to put that sweet secret back room to good use. We're bringing back Sunday Instagram flash sales soon, and I have ideas for some creative repurposing of our older books that I'm not quite ready to share yet. And honestly, if you haven't subscribed to our Compass newsletter, you really have to. It's astonishing what Kate has done with the microscopic amount of guidance I gave her. If you're a fan of our store or of Kate's writing, The Compass is a must-read.
The surprise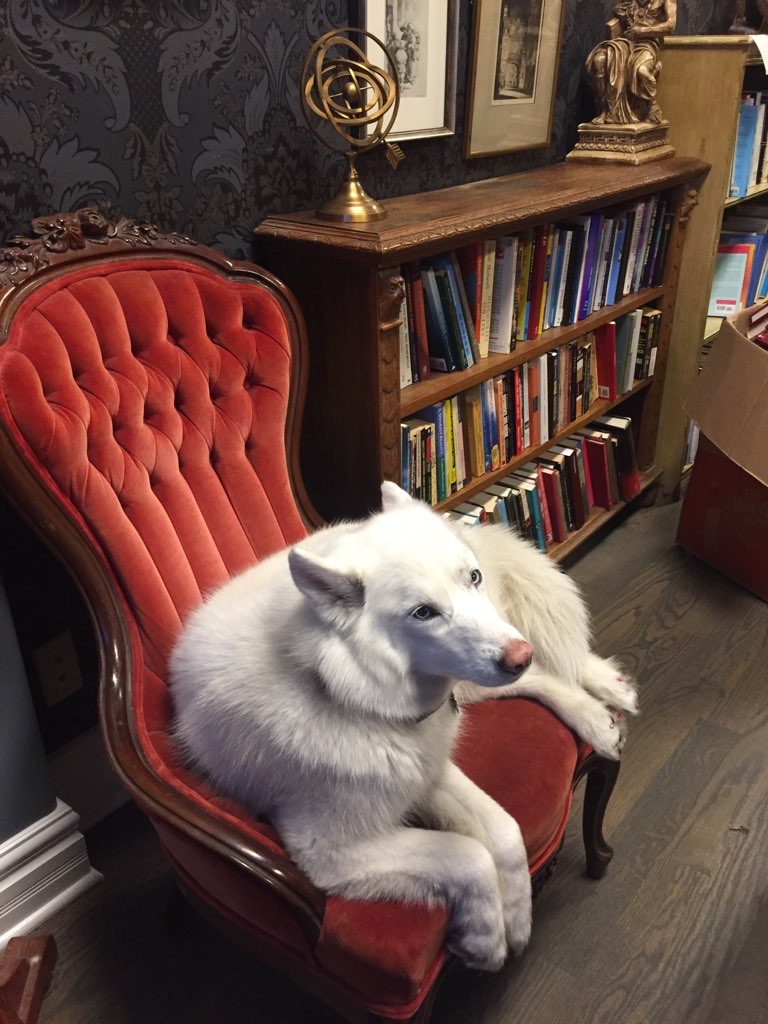 I don't know where to end the story of Uncharted Books, because it's a story that continues and I'm too close to it to see a meaningful narrative arc anyway. But I do want to share with you a treat. This is something I've known about for a long time, but until now I've only shared it with a handful of friends.
We have a Google alert set for "Uncharted Books." As you may suspect, we mostly get pings about the Uncharted video game series or the upcoming movie. However, there was one time when we got a ping for something different. Rachel got the alert that directed her to this at the end of 2012, while we were driving home to NC to visit my parents for Christmas. I swore I would never post it publicly because the person who made it was clearly a big fan of the store and I didn't want to embarrass them. (The key detail is "Cheerwine," which is an NC cherry soda that was for many years not available in Chicago, and which I used to drink constantly while I was at work. This was created by someone very familiar with the bookstore.)
I truly have no idea who made this. I had some suspects and asked around, but everyone I've talked to denies it. But now I think that enough time has passed that sharing this piece of art is not likely to have a negative effect on its creator. I want to be clear that I am not posting it to make fun of it. Quite the opposite; I continue to be astonished and flattered that anyone would like my silly little bookstore so much that it would inspire them to make something like this.
So, friends of Uncharted Books, on our 10 year anniversary I give you a small gift. Please don't try to figure out who made it or why; just enjoy it for what it is.
The gift: bit.ly/3fjjAEt
(If you are the creator of this and would like to comment on it or have this link removed, please shoot me an email. Please don't delete it. It's my favorite thing on the internet.)
And that's all I have to say for now. Thank you for letting me tell a few stories; I have many more. And from the bottom of my heart, thank you for letting me do this for the last 10 years. I love all of you.
Tanner McSwain